ExeonTrace Platform and Modules
Complete network visibility with ExeonTrace
ExeonTrace modular set-up lets you tailor it exactly to your needs. The Platform is the central brain of ExeonTrace, powering the Modules and correlating events across different sources. The Modules provide specialized AI and capabilities to collect, process, analyze, and visualize data, as well as to detect and investigate threats from specific data sources.
The Platform
For enhanced security and full visibility
Unique and intuitive visualizations enable you to understand and monitor large and complex networks. Get full transparency on the communication of your critical networks. For enhanced security and to comply with the latest data protection regulations. Detect data breaches early on and harden your firewall without interrupting crucial business activities.
Correlation Engine

AI to combine and correlate relevant data across all available data sources. To give you the fullest picture for visibility, threat detection, assessment, investigation, hunting, and response.

Incident Assessment

Algorithms to automatically assess and prioritize detected security incidents. To minimalize false alarms and helping your team focus on the right cases.

SecurityDB

Graph database to efficiently store processed and enriched security data with minimal data volume – up to 50x less than raw log data! For great scalability and the ability to keep a long event history.

Dashboard & Reporting

Customizable Dashboard, Analytics and Reporting of the various incidents, as well as a general, intuitive UI to run the ExeonTrace solution.

Alerting System

ExeonTrace's core threat alerting system, as well as a REST API to feed alerts into other systems like your ticketing system, SIEM, SOC platform or SOAR.

Data Lake (optional)

Do you already have a Data Lake in Splunk or Elasticsearch to combine and store all your raw event logs? Great, we'll gladly use it. If you don't, or only partially, you can employ ExeonTrace's powerful and cost-effective Data Lake.

Incident Handling

Resolve issues directly in ExeonTrace's UI.
The Modules
Analyze and defend your assets
The Modules provide the tools to analyze and defend your various assets: Source-specific AI, algorithms, and use cases for various data sources and their respective threat scenarios. These Modules bring all the specialized capabilities to efficiently collect, process, analyze, and visualize data, as well as detect and investigate threats.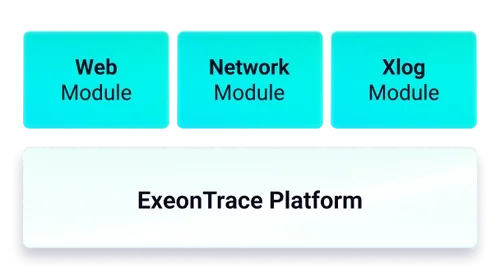 Data Collectors: High-performance software collectors to collect very large amounts of system data. Eliminating the need for hardware sensors.
Detection AI: Ready-made analyzer algorithms and use cases designed specifically for the respective data sources and their security scenarios.
Processing Engine: Powerful AI to create source-specific enriched security data.
Investigation AI: Optimized investigation views and guided threat hunting for the respective data sources and their use cases.
Visualizations: Dedicated and intuitive visualizations for the respective data sources and their use cases.
The Modules
These Modules make your Network safer and smarter – jointly or individually.
Network Module: Covering internal & external network traffic
For NetFlow, IPFIX, Corelight & DNS
Web Module: Covering web activities of internal devices
For proxy logs of SSL/TLS-intercepting Secure Web Gateways
Xlog Module: Cross-data threat detection
For additional security relevant log data
Book live demonstration of ExeonTrace
Schedule a demo and get to know how ExeonTrace can make your company more cyber resilient.